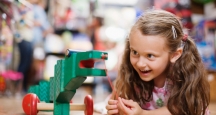 Toys R Us | NYC Shopping
Toys R Us is one of the largest toys stores in the world and visiting is a popular Thing to do in NY for families.
Address:
1514 Broadway, New York, NY 10036
Toys R Us
Category: Toys
Price Point: $$
Neighborhood: Midtown West
Hours:
Sunday through Friday – 10 a.m. to 11 p.m.
Saturday – 9 a.m. to 11 p.m.  
A visit to Toys R Us in Times Square is a must during your next family visit to the City. No NYC Shopping trip is complete without a stop at this iconic spot.
About Toys R Us:
For years, a visit to Toys R Us in Times Square has been 1 of the can't-miss Things to do in NY for millions of visitors. But as talk continues of an imminent departure from Manhattan's heart, time may be running out to experience the biggest and most mind-blowing toy store in the United States.
Toys R Us in Times Square is less a toy store in the traditional sense and more like a world-class theme park that also happens to sell toys. Proving that in some cases bigger really is better, this absolute leviathan of a store features everything from a 60-foot Ferris wheel to a 20-foot animatronic T-Rex dinosaur and even a life-size Barbie dollhouse. It's 1 gigantic interactive experience that's the stuff of dreams for kids of all ages - not to mention many adults.
The place is filled with costumed characters and often attracts famous faces who pop in for special guest appearances. A notable mention also goes to the Lego section, which along with being one of the biggest and most diverse in the world also features a range of exclusive sets and add-ons that you can't get anywhere else. For 1 of the most enjoyable NYC Shopping experience with kids in-tow, Toys R Us in Times Square is a must during a family visit.
As for its future, no decision has yet been made about the rumored exit, but should their departure from Times Square is imminent. Pay this iconic spot for NYC Shopping a visit the next time you're in the City.  
NYC
Visitor's Guide
Learn about all there is to do, see and experience in the world's greatest city!