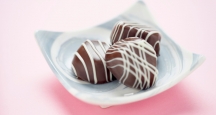 Teuscher Chocolates | NY Shopping
Teuscher Chocolates offers amazing sweet treats. Indulge a bit while Shopping in NYC.
Address:
Rockefeller Center | 620 5th Avenue New York, NY 10020
Teuscher Chocolates
Category: Sweets
Price Point: $$$
Neighborhood: Upper East Side
Hours: 
Monday through Saturday – 10 a.m. to 6 p.m.
Sunday – Noon to 6 p.m.
Enjoy a delicious treat while out NY Shopping with a stop at Teuscher Chocolates.
About Teuscher Chocolates:
Satisfying your sweet tooth in New York City is not difficult, and you have a thousand choices at your fingertips. When chocolate is what you crave while out Shopping in New York, then a visit to Teuscher Chocolates is a perfect choice.
Many feel that a visit to Rockefeller Center isn't complete without stopping by to see what's on display at this confectionary shop. Those who are counting calories might want to check their calculators at the door, but rest assured that every single calorie will be well worth it.
Ever since Oprah told the world about Teuscher, it's become less a local favorite and more of an NY Shopping landmark. A fresh batch of chocolate is flown in from Switzerland each week. The store seems to have been ripped straight from the pages of a fairy tale – adorned with bright colors and filled with delicious things that you'll want to try.
Yes, Teuscher is expensive, but once you taste one of their famous Champagne Truffles, the price will suddenly seem irrelevant. If you haven't tasted Teuscher Chocolates, then you need to plan a visit while you're out Shopping in New York. In addition to the classic favorites like the Champagne Truffles, there are some new creations that have gained cult status. The Bailey's Irish Cream Truffle is 1 delicious example of a newly introduced treat that is a fan favorite.
Even if you only want to sample a single chocolate, this NY Shopping spot is worth a visit. You'll spend $3.50 for 1 truffle, but you might think it's the best $3.50 you spent during your visit to New York City. 
NYC
Visitor's Guide
Learn about all there is to do, see and experience in the world's greatest city!