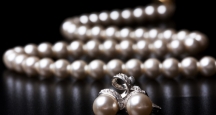 Ted Meuhling | NY Shopping
Ted Meuhling offers a gorgeous selection of handcrafted jewelry. Stop by while Shopping in NYC.
Address:
52 White Street New York, NY 10013
Ted Meuhling
Category: Jewelry
Price Point: $$$$
Neighborhood: TriBeCa
Hours: 
Monday through Saturday – Noon to 6 p.m.
Find an affordable treasure while Shopping in NYC at Ted Meuhling.
About Ted Meuhling:
Born, bred and based in New York City, the Ted Meuhling brand has been producing stunning jewelry for over 4 decades. The man himself still creates everything with the help of a small team based out of an even smaller NYC studio.
Beautiful nature-inspired gold jewelry forms the core of the collection.  Meuhling does a pretty good job of proving that Shopping in NYC for exclusive designer jewelry doesn't have to mean spending your kids' college funds. With prices starting at under $500, there are pieces to fit in just about every budget.
This spot for Shopping in New York is a fantastic place to head for a well-deserved indulgence. As for the store itself, you might get the feeling you're walking into a museum rather than a high-end jewelry store. Compact, well laid-out and staffed by a friendly team, the store's casual and relaxed ambience is a kind of retreat from the busyness of the City.
Meuhling shows a genuine interest in perfecting each item that is for sale. He continues to lead the brand's workshop and personally oversees every new product.  He is very much the artist, and each piece is as important to him as the next. When you buy a piece from this NY Shopping venue, you will be able to wear a beautiful reminder of nature that is truly a work of art.
Plan a visit to Ted Meuhling during your next NY Shopping trip. 
NYC
Visitor's Guide
Learn about all there is to do, see and experience in the world's greatest city!