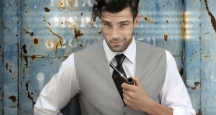 Mr. Throwback | Vintage Shopping in NY
Mr. Throwback is a top spot for Vintage Shopping in NY.
Address:
428 E 9th Street New York, NY 10009
Mr. Throwback
Category: Vintage
Price Point: $$
Neighborhood: East Village
Hours: 
Monday through Saturday 1 p.m. to 8 p.m.
Sunday - Noon to 6 p.m.
Enjoy NYC Shopping with a touch of nostalgia by browsing the clothes, toys, and more at Mr. Throwback.
About Mr. Throwback:
When you're talking Vintage Shopping in NY, Mr. Throwback should be high on your list of can't-miss stores. For kids of the 80s and 90s, this spot will inspire a hint of nostalgia with all of their vintage clothing, toys, accessories, and more.
Owner Michael Spitz built his empire by working the flea market scene. He ultimately built a store that offers uniquely diverse and high-quality items.  The unique quality of the items is the same thing that makes NYC Shopping at a place like Mr. Throwback a bit of a challenge. Most of the items you'll find are one of a kind, so if you miss out on a great piece then it's gone for good. The flipside of that is the fun of browsing the racks, never knowing when you'll find a treasure.
Levi's jean jackets fly off the shelves for around the $60 mark, while there's always the chance of getting lucky by finding some high-end designer clothes or shoes. Along with the clothes, you will find collectibles such as action figures, trading cars, and more.
Mr. Throwback is 1 of the hottest and most popular stores in the East Village and promises something new every time you visit. This is the perfect place to snap up a piece of your childhood or to take home a gift that is truly unique and special.
If you want an even better bargain that what is available every day then head to Mr. Throwback on Thursday when everything in the store is 10% off. Enjoy Vintage Shopping in NY during your next visit to the City.  
NYC
Visitor's Guide
Learn about all there is to do, see and experience in the world's greatest city!