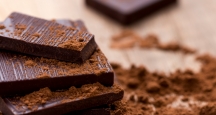 The Meadow | New York Shopping
The Meadow is a gourmet marketplace filled with high end salt, chocolate, and more. Stop by during your next New York Shopping trip.
Address:
523 Hudson Street New York, NY 10014
The Meadow
Category: Gifts, chocolates
Price Point: $$$
Neighborhood: West Village
Hours: 
Sunday through Thursday – 11 a.m. to 8 p.m.
Friday and Saturday – 11 a.m. to 10 p.m.
For those who love to cook, The Meadow is a not-to-be-missed stop while New York Shopping.
About The Meadow:
For serious cooks with a taste for quality ingredients, The Meadow is a New York Shopping spot that is not to be missed. This tiny boutique store is crammed with more varieties of gourmet salt, chocolate and bitters than you probably knew existed. Specializing in exotic salts from all over the world and the highest-quality salt blocks for cooking, The Meadow is perhaps 1 of the best places in the City when it comes to buying gifts for foodies.
When you walk in you'll see tall wooden shelves lined with glass jars and bottles filled with all manner of weird and wonderful contents. The store may be small in size, but there's enough packed in to keep you busy for at least an hour or 2 as you discover new things that you never knew you needed, but now must have.
The towering wall of gourmet chocolates tends to be the highlight for most visitors.  If you don't already know a thing or 2 about chocolate, chances are The Meadow will be able to provide a bit of a lesson. They sell everything from 100% pure dark chocolate to amazing infused chocolates. Some say The Meadow serves some of the best hot chocolate in the City, so a visit during the winter months is a must.
Whether you're stopping in for a well-deserved treat or to pick up a gift for someone special, The Meadow is a great choice of New York Shopping venues. Also worth noting are the fabulous selection of flowers available at The Meadow. If you're looking for NY Things to Do, then consider exploring the offerings at this popular store. 
NYC
Visitor's Guide
Learn about all there is to do, see and experience in the world's greatest city!