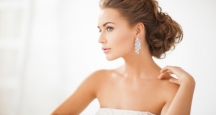 Harry Winston | Shopping in NYC
Shopping in NYC for jewelry? Harry Winston is regarded as one of the finest jewelry stores in the world.
Address:
718 5th Avenue New York, NY 10019
Harry Winston
Category: Jewelry
Price Point: $$$$
Neighborhood: Midtown West
Hours: 
Monday through Saturday – 10 a.m. to 6 p.m.
Sunday – 12 p.m. to 5 p.m.
If you are seeking a superb piece of jewelry while Shopping in NYC, then Harry Winston is a can't miss spot.
About Harry Winston:
New York Shopping can be an adventure, but a visit to Harry Winston is a dream come true for anyone who loves fine jewelry.  Harry Winston offers the finest in diamonds and rare stones. The selections are impeccable and customer service is outstanding. 
If you love jewelry, a New York Shopping trip to Fifth Avenue isn't complete without a visit to Harry Winston. With a legacy of timeless elegance, Harry Winston offers their distinctive world-famous service to every client. Each of their high quality creations, which are inspired by carefully selected, distinctive jewels, lives up to their reputation. Your acquisition of a Harry Winston piece is sure to be a highlight of your experience Shopping in NYC.
Building on the reputation of the founder's father, Jacob Winston, the Harry Winston family of fine jewelers presents unsurpassed craftsmanship and artistry along with an impressive selection of loose stones. Whether you're shopping for a finished piece, a stone, or want to have something custom created, this world-famous New York Shopping venue is the place to come.
Shopping in NYC is a popular Thing to Do, and stores like Harry Winston are part of the reason why. New York Shopping is eclectic, and there is something for everyone. Both bargain shoppers and those looking for quite high-end will find what they're looking for during a visit to New York City.
Whether you're looking for an engagement ring, something to celebrate an anniversary, or you just want to splurge for no special reason, Harry Winston's selection is sure to leave you breathless. 
NYC
Visitor's Guide
Learn about all there is to do, see and experience in the world's greatest city!