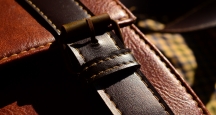 NY Shopping | Ghurka
If you're looking for Things to do in NYC consider stopping by Ghurka or some of the other lesser-known spots for NY Shopping.
Address:
781 5th Avenue, New York, NY 10022
Ghurka
Category: Leather goods
Price Point: $$$$
Neighborhood: SoHo
Hours: 
Monday through Saturday – 11 a.m. to 7 p.m.
Sunday - Noon to 5 p.m.
For fine leather goods, add a visit to Ghurka to your list of can't-miss stores during your next NY Shopping trip.
About Ghurka:
"PUT SOME HAIR ON YOUR CHEST" is the order barked out by some of the epic Izola flasks on display at Ghurka's flagship 5th Avenue store. Famed the world over for producing high-quality leather handbags, Ghurka delivers a unique combination of urban fashion and raw durability.
Putting a refined twist on styles influenced largely by those of the 1970s military, Ghurka is brand that speaks to those who favor prestige and performance in equal measures. More an investment for life then a frivolous purchase, Ghurka's luxury goods are as practical as they are catwalk-ready.
Now with 2 outlets in New York City, Ghurka's Fifth Avenue location delivers a quintessential NY Shopping experience. The place has been designed and decorated to create a vibe somewhere between that of a cigar room and that of a safari tent. Old leather chairs, worn exploration gear, and well-read books perfectly complement the display racks loaded with bags, cases, wallets and travel accessories of the highest caliber.
You might feel that walking into the Fifth Avenue Ghurka is a bit like stepping into a museum where you just so happen to be able to buy the displays. Also among the products are Land by Land candles, Super sunglasses, and a welcome assortment of Ernest Alexander ties.
Ghurka is a great place to spoil yourself or to look for fabulous gifts. Either way, a visit to Ghurka is a can't-miss Thing to do in NYC.  
NYC
Visitor's Guide
Learn about all there is to do, see and experience in the world's greatest city!