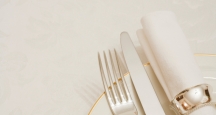 Georg Jensen | Shopping in New York City
Georg Jensen's jewelry and accessories help make it clear why NY Shopping is some of the best in the world.
Address:
687 Madison Ave, New York, NY 10065
Georg Jensen
Category: Jewelry
Price Point: $$$$
Neighborhood: Upper East Side
Hours: 
Monday through Friday – 9 a.m. to 5 p.m.
Fabulous jewelry and accessories are what you'll find when you do some Shopping in New York City at Georg Jensen.
About Georg Jensen:
If you're out Shopping in New York City for exquisite silverware, you won't find a name more prestigious than Denmark's Georg Jensen. Lavish, lustrous, and lovely, Georg Jensen has been setting the bar unattainably high for well over a century.
Though famed worldwide for producing jewelry and accessories of truly outstanding quality, Georg Jensen is perhaps best known its signature cutlery range. Crafted from the finest silver or steel and with the kind of attention to detail that's reserved for only the highest quality items, Georg Jensen's cutlery is a staple in many of the world's most exclusive fine-dining establishments.
A truly head-turning collection of stunning silverware really encapsulates what Georg Jensen is all about in terms of both the brand and its heritage. Creating a unique marriage of form and function that's a hallmark of an elite design, Georg Jensen's talented designers have received multiple awards for artistry – including the prestigious Danish Design Award.
The brand's flagship New York boutique also presents an enchanting range of gifts for all occasions, along with a permanent collection of unique Christmas decorations and accessories. Smaller trinkets and keychains can be picked up for less than $50, while the collection's more exclusive lines sell for much more.
Despite being one of the proudest and most iconic silverware brands in history, the Georg Jensen Shopping experience is surprisingly casual. Gracious, helpful and attentive staff help create a memorable NY Shopping experience that's guaranteed to be a highlight of your trip – even if you leave without buying a thing. 
NYC
Visitor's Guide
Learn about all there is to do, see and experience in the world's greatest city!