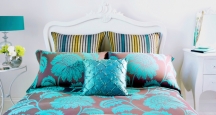 Frette | NYC Shopping
Frette is a popular spot for NYC Shopping and features luxury linens and home goods.
Address:
799 Madison Avenue New York, NY 10021
Frette
Category: Bedding/bath
Price Point: $$$$
Neighborhood: Upper East Side
Hours: 
Monday through Saturday – 10 a.m. to 6 p.m.
Sunday - Noon to 5 p.m.
Frette is one of the top places for NYC Shopping for luxury linens and other items for your home.
About Frette:
Looking for high-end sheets that make getting out of bed even more of a chore? Make your way over to Frette. This well-known fixture on the NYC Shopping offers quality bedding and other items that add a touch of luxury to your bedroom.
Frette was founded in 1860, and is based in Monza and Milan. Many feel that that there really isn't a linen brand in the world that can hold a candle to Frette. Supplier of exquisite quality home furnishings to royalty, exclusive hotels, and five-star airlines, when you buy from Frette you can assured of getting the highest quality.
A far cry from the mass-produced norm, linens created by Frette are the work of artisan craftsmen using only the finest materials. Frette strives for perfection in every stitch and every seam in order to produce linen that's as fitting for a centuries-old stately home as it is the most lavish of luxury condos.
Along with the brand's signature collection of linens and accessories, Shoppers are also presented with a sumptuous collection of blankets, robes, pajamas, bath towels and so much more. Quality of this sort doesn't come cheap. You should plan on spending about $2,500 for a new set of ultra-luxurious bedding. For a taste of regal living, it's hard to beat Frette. Stop by during your NY Shopping trip and feel the difference that high quality bedding can make. 
NYC
Visitor's Guide
Learn about all there is to do, see and experience in the world's greatest city!