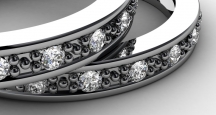 Fred Leighton | NYC Shopping
Fred Leighton is a spot for NYC Shopping that boasts some of the most fabulous jewelry you'll ever see.
Address:
773 Madison Avenue New York, NY 10065
Fred Leighton
Category: Jewlery
Price Point: $$$$
Neighborhood: Upper East Side
Hours: 
Monday through Saturday – 10:30 a.m. to 5:30 p.m.
Enjoying some NYC Shopping? Stop in to Fred Leighton to see some of the most exquisite jewelry in the world.
About Fred Leighton:
If you've ever watched the Oscars, you've probably seen the work of Fred Leighton strutting its stuff on the wrists, necks, and ears of Hollywood's elite. Having first hit the high-end NYC Shopping scene in the mid-1970s, the Fred Leighton brand quickly became known for its no-holds-barred approach to locating, obtaining and retailing the most exquisite jewelry from all over the world.
Fred Leighton's legacy continues its evolution even today, offering a range of classic and vintage pieces from the 18th, 19th, 20th centuries. Rare and outstanding treasures are collected from hidden and exclusive sources spanning the world in order to put together a collection that is unlike any other. For those Shopping in NYC for something that goes far beyond the usual limits of extravagance, Fred Leighton's Madison Avenue boutique is nothing short of a wonderland.
His designs have over recent years been worn by the likes of Nicole Kidman, Sarah Jessica Parker, Natalie Portman and dozens more A-Listers . The brand's historic jewelry collection is today presented with a separate signature Fred Leighton range, which likewise features unique one-off pieces inspired by the culture of past centuries and created with next-generation craftsmanship.
Fred Leighton offers a high-end jewelry buying service which guarantees to transform unworn jewels into modern day masterpieces.  Whatever type of very special jewelry you need, this is 1 of the places to visit while Shopping in NYC. When you're looking for a store that offers the ultimate jewelry buying experience, Fred Leighton should be at the very top of your list. 
NYC
Visitor's Guide
Learn about all there is to do, see and experience in the world's greatest city!