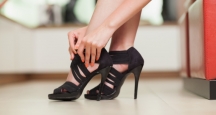 Fratelli Rossetti | NYC Shopping
Include a visit to high-end store Fratelli Rossetti on your next NY Shopping trip.
Address:
625 Madison Avenue New York, NY 10022
Fratelli Rossetti
Category: Shoes
Price Point: $$$$
Neighborhood: Midtown East
Hours: 
Monday through Wednesday – 10 a.m. to 6:30 p.m.
Thursday – 10 a.m. to 7 p.m.
Friday and Saturday – 10 a.m. to 6 p.m.
Sunday – Noon to 5 p.m.
Are you a shoe enthusiast? Then you will want to pay a visit to Fratelli Rossetti during your next NYC Shopping trip.
About Fratelli Rossetti:
The Fratelli Rossetti flagship boutique is not to be missed during a NY Shopping trip – especially when the Shopper is smitten with shoes.  Bursting with cutting-edge Italian fashion and 1 of the City's hottest spots for shoe-addicts, it's the kind of place you simply cannot walk by without stopping in for a peek.
This store has impeccable service down pat. They have mastered the art of eliminating the pushy sales techniques and replaced them with a team that can help you find something you love. Do you need to try on 17 pairs before making your mind up? No problem. The staff will happily oblige. If you decide you're not interested after taking up an hour of their time they will still treat you like a valued customer.
Softly lit and strategically organized, enjoying some NYC Shopping at Fratelli Rossetti is a relaxing experience that will make you want to return again and again. These shoes are for those who are willing to pay for the highest quality. Nestled in the highest priced items are some that are more moderately priced.
The men's and women's sections are given equal focus and attention, which is a welcome change from some other shoe stores. The store can be quite busy on the weekends, but even if you visit during peak times, the staff will do their best to make sure you're taken care of quickly.
Consider visiting this wonderful NYC Shopping venue during your next visit to the City. 
NYC
Visitor's Guide
Learn about all there is to do, see and experience in the world's greatest city!