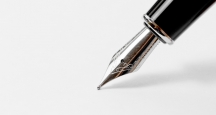 Fountain Pen Hospital | New York Shopping
Add a visit to the Fountain Pen Hospital to your itinerary while enjoying some NYC Shopping.
Address:
10 Warren Street New York, NY 10007
Fountain Pen Hospital
Category: Fine writing instruments
Price Point: $$$
Neighborhood: TriBeCa
Hours: 
Monday through Friday – 7:30 a.m. to 5:30 p.m.
NY Shopping for a perfect gift? Consider the fine writing instruments and other accessories at the Fountain Pen Hospital.
About the Fountain Pen Hospital:
There was a time when pens were created by craftsmen. The Fountain Pen Hospital harkens back to that time when pens were something to be cared for rather than tossed in the trash. Founders Phil Wiederlight and his father Al were famed 'pen surgeons' in the 50s and 60s. Today, their legacy lives on in this popular spot for NY Shopping.
When the Wiederlights saw the likes of Staples hitting the market in the 80s, the decision was made to bring their old-school skills and talents into the public spotlight.That's how the Fountain Pen Hospital was born, and why it is today a fabulous New York Shopping experience for writers, doodlers and top-level artists alike. Built on several decades of experience, the same father-son pair continue to run a unique business where quality, performance and prestige take precedence over everything else.
This is well-illustrated in the selection of $15,000 fountain pens that are for sale. If that's a little steep for you, there are plenty of other pens on offer, and prices start at just $10. For pen collectors and lovers of the written word, NY Shopping doesn't get but better than the Fountain Pen Hospital.
This popular New York Shopping venue also carries a selection of discount watches. This is a great place to shop for Father's Day gifts or other gifts for the special men in your life, but there are plenty of items that women can appreciate as well. Stop by the Fountain Pen Hospital the next time you're out Shopping in NYC. 
NYC
Visitor's Guide
Learn about all there is to do, see and experience in the world's greatest city!