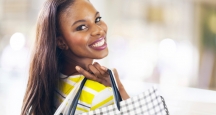 Emilio Pucci | New York City Shopping
Emilio Pucci, a top venue for New York City Shopping, offers high-end women's fashions and accessories.
Address:
855 Madison Avenue New York, NY 10021
Emilio Pucci
Category: Women's Fashion
Price Point: $$$$
Neighborhood: Upper East Side
Hours: 
Monday through Saturday – 10 a.m. to 6 p.m.
Closed Sunday
New York City Shopping is a popular New York Activity, and a visit to the flagship store of Emilio Pucci in the Upper East Side is a must for those who are serious about fashion.
About Emilio Pucci: 
Emilio Pucci is an example of very high-end New York City Shopping. Some of the most extraordinary clothing finds come from this design house, and you owe it to yourself to visit Emilio Pucci and experience the aesthetic brilliance of these Italian-inspired fashion offerings.
Emilio Pucci carries on in the iconic and revolutionary custom of its founder and presents exclusive, off-the-rack New York City Shopping at its best. Holding on to the haute couture bold and colorful designs, Emilio Pucci offers private client fittings, body specific tailoring, and a fabulous selection of clothing.
If you're looking for a truly special collection of high-end apparel then Emilio Pucci will deliver. Pucci prints and other fine designs are pleasing to the eye, and their creative geometric patterns provide pops of color and a bold style. The store is filled with an energy that makes Shopping there a memorable experience.
First-time visitors are often overwhelmed by the choices when it comes to New York City Shopping. It's true that there are thousands of stores, shops, and boutiques that can cater to every type of clientele. The fashion-forward love New York City Shopping, and it doesn't take long to figure out why. If you're serious about fashion then you'll want to add a visit to Emilio Pucci to your list of can't-miss NY Activities. 
NYC
Visitor's Guide
Learn about all there is to do, see and experience in the world's greatest city!