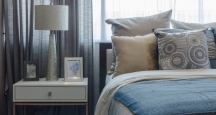 Duxiana | New York Shopping
Duxiana is one of many can't-miss New York Shopping venues.
Address:
235 E 58th Street New York, NY 10022
Duxiana
Category: Bedroom furniture
Price Point: $$$$
Neighborhood: TriBeCa
Hours: 
Daily – 10 a.m. to 6 p.m.
For the finest in bedroom furniture, add Duxiana to your list of can't-miss stores during your New York Shopping trip.
About Duxiana:
For almost a century now, the folks at Duxiana have been working on 1 thing and 1 thing only: giving you the best night's sleep of your life. Duxiana mattresses can be found gracing many of the finest Hotels and luxury homes across the country.
Take a trip to Duxiana's flagship store, and you'll be treated to a relaxed lesson in what you've been missing out on by continuing to sleep on your old mattress. Of course there's only so much they can tell you, so you'll be welcome to try out some of the mattresses, so you can see for yourself. After a few minutes on 1 of their mattresses, you'll understand why Duxiana mattresses are the first choice of those who can afford the very best bedding.
These mattresses are not for those who balk and spending a lot of money for a mattress. These are high quality items made with finest craftsmanship and boasting 4,000 springs. The mattresses come with a 20-year guarantee, so you can buy with confidence.
Duxiana represents 1 type of New York Shopping that makes the City a destination for those who want to buy high quality goods. While there are plenty of places to find a bargain in New York, stores like Duxiana offer the finest quality to discriminating shoppers.
If you're in the market for a new mattress then consider browsing the selection at Duxiana. You'll leave with an education about what makes a good mattress and, hopefully, with a new mattress will help you get a better night's sleep.
NYC
Visitor's Guide
Learn about all there is to do, see and experience in the world's greatest city!