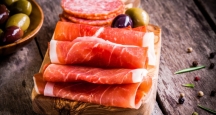 Di Palo | NYC Shopping
Di Palo is an example of the many fabulous NYC Shopping venues you'll finding during your visit to this exciting City!
Address:
200 Grand Street New York, NY 10013
Di Palo
Category: Gourmet marketplace
Price Point: $$
Neighborhood: Little Italy
Hours: 
Sunday – 9 a.m. to 4 p.m.
Monday through Saturday – 9 a.m. to 6:30 p.m.
Add Di Palo, a fine gourmet marketplace, to your list of places to visit during you NYC Shopping trip.
About Di Palo:
If you love gourmet marketplaces then Di Palo is an NYC Shopping experience that is not to be missed. Local New Yorkers would likely argue that New York does Italian food better than Italy itself, and when you sample what's on offer at Di Palo, you may be hard-pressed to argue.
Far from just the best Italian deli in town, Di Palo never fails to score points as one of the places you just must visit while in New York City. It's the only genuine full-service Italian charcuterie in all of Manhattan and while there's no shortage of good stuff around, they stock and sell simply the best Italian meats and cheeses in the state. If you know fine cold cuts then you'll be able to fully appreciate the offerings at Di Palo. The large and very impressive selection of Italian wines is another feature for this spot for NYC Shopping that sets it apart
Di Palo has been in business for decades and still operates the same today as it has for years. For foodies and top chefs alike, it's as much a part of the NYC landscape as the Chrysler Building or Lady Liberty. If you visit during a busy time, you'll find that place is noisy, crowded, chaotic – just what you'd expect from 1 of the top gourmet marketplaces in the City.
Located in Little Italy, Di Palo is a wonderful place to spend some time before or after enjoying a fabulous meal in a nearby Italian Restaurant. Don't miss your chance to enjoy a taste of Italy then next time you're Shopping in NY. 
NYC
Visitor's Guide
Learn about all there is to do, see and experience in the world's greatest city!