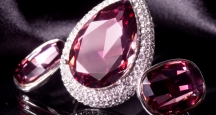 David Webb | NYC Shopping
David Webb, a popular NYC Shopping spot, offers fine jewelry at their East Side location.
Address:
942 Madison Avenue, New York, NY 10021
David Webb
Category: Jewelry
Price Point: $$$$
Neighborhood: Upper East Side
Hours: 
Hours mainly by appointment only
Whether you are NYC Shopping for an engagement ring or some other piece of fine jewelry, David Webb is 1 of THE places to visit during your stay.
About David Webb:
With an impressive legacy dating back to 1948, David Webb has left a lasting mark of the world's ultra-elite jewelry scene. Suffice it to say you don't want to miss out on the opportunity to visit Webb's flagship New York City store, where 5 to 6-figure prices are the norm for his extraordinary works of art.
Celebrities and other big spenders have been seen wearing the work of David Webb. From the red carpets of Hollywood to the biggest stages on Earth, people such as Beyoncé, Elizabeth Taylor, and Jacqueline Kennedy have found Webb's designs impossible to resist. Famed for his creative take on animal motifs and Maltese Cross brooches, his collection has diversified enormously since his untimely death in 1975. Even after this death, his artistic signature and fingerprint remain as clear and striking as ever.
Along with a sister-store in Beverly Hills, Webb's flagship outlet at 942 Madison Avenue is less an NYC shopping experience and more of a museum to mind-blowing art. Not that it feels in any way as stuffy as the average NY art gallery. His work has always been seen as a celebration of beauty and enjoyment.
It's true that the jewelry for sale at David Webb will not suit every budget, but even if you don't plan to buy, it's still fun to visit and see some of the gorgeous items on display. Enjoy a visit to this renowned boutique, or splurge on a very special piece, during your next luxury NYC Shopping trip.
NYC
Visitor's Guide
Learn about all there is to do, see and experience in the world's greatest city!