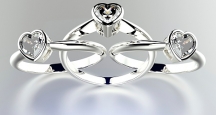 Chrome Hearts | New York City Jewelers
Chrome Hearts is a New York City Jeweler, and a great addition to any afternoon Shopping in NY.
Address:
870 Madison Avenue New York, NY 10021
Category: Jewelry
Price Point: $$$$
Neighborhood: Upper East Side
Hours:
Monday- Saturday: 10am-6pm
Sunday: Closed
About Shopping at Chrome Hearts:
Are you looking for top New York City Jewelers for unique and cutting-edge designs? Visit Chrome Hearts on Madison Avenue. This lifestyle boutique sells a fantastic collection of fabulous jewelry for the daring and adventurous – and it stocks some of the most fabulous eyeglasses, clothing, bags, furniture, and baby clothes.
Spend an hour or so Shopping in NYC at Chrome Hearts and you'll find many one-of-a-kind items to take back home with you, some of which are limited edition pieces like those created especially for the Rolling Stones "Forty Licks" tour.
Shopping in NYC at Chrome Hearts is like choosing from a smorgasbord of funky, California-glam products, most of which have a "coastal rocker" vibe incorporated into their design. At Chrome Hearts, you'll find some outstanding pieces that are at once laid back, minimalist, and high style.
Chrome Hearts features some amazing charms, belts, and silver chains – most of which are on display. If you're looking for something unique and different that you don't see on the store's shelves, simply tell the boutique's staff what you want and they'll try to find it for you.
There are many surprises to be had when Shopping in NYC at Chrome Hearts. Aside from being one of the most popular New York City Jewelers, Chrome Hearts is a treasure trove for studded shoes, designer clothing, and the coolest of accessories.
NYC
Visitor's Guide
Learn about all there is to do, see and experience in the world's greatest city!