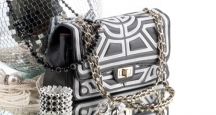 Chopard Boutique | Jewelry Shops in NYC
Chopard Boutique is a fabulous Jewelry Shop in NYC. Visit this lovely boutique during your next NY Shopping trip.
Address:
709 Madison Avenue New York, NY 10065
Category: Timepieces, Jewelry
Price Point: $$$$
Neighborhood: Upper East Side
Hours:
Monday-Friday: 10am-6pm
Saturday: 10am-5pm
Sunday: Closed
About Shopping at Chopard Boutique:
Chopard Boutique is one of the top Jewelry Shops in NYC. It features a fine selection of Swiss-made, 18-karat white and yellow gold jewelry – with many pieces incorporating precious stones into the design. New Yorkers and NYC visitors who regularly shop at Chopard Boutique love the retailer's Happy Series of watches, which features unique pieces from the Four Leaf Clover and Horseshoe collections.
Doing some NY Shopping? Chopard Boutique is a jeweler that offers some incredible items like pieces with stunning floating diamonds inside. Chopard Boutique sells some gorgeous wedding sets – with many bands featuring heart-shaped prongs or embellished diamond accents. Looking for something truly special? Visit Chopard Boutique and take a look at an over-the-top piece that includes a gorgeous grid of diamonds concealing the metal underneath.
For one of the top Jewelry Shops in NYC, visit Chopard Boutique on Madison Avenue. For a Hotel in New York near this top jeweler - and many other top NYC Shops - choose a Hotel in New York near Times Square, in the Broadway Theater District, or near Central Park.
When you're doing some NY Shopping for watches or jewelry, be sure to stop by Chopard Boutique. You'll find unique pieces and one-of-a-kind treasures. 
NYC
Visitor's Guide
Learn about all there is to do, see and experience in the world's greatest city!