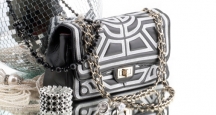 Chanel | Luxury Boutiques in NYC
When Shopping in New York stop by Luxury Boutiques in NYC such as Chanel.
Address:
737 Madison Avenue New York, NY 10065
Category: Fashion
Price Point: $$$$
Neighborhood: Upper East Side
Hours:
Monday through Wednesday, Friday and Saturday – 10 a.m. to 6 p.m.
Thursday – 10 a.m. to 7 p.m.
About Shopping at Chanel:
Shopping in New York? Don't miss some of the best high-end options in the City. Chanel on Madison Avenue is one of the top Luxury Boutiques in NYC. This high-end fashion house offers an intimate space for Shopping in NYC near any NYC Hotel in Midtown Manhattan. While Chanel's Flagship store on 57th Street has so much merchandise to offer the NYC visitor, some tourists – and NYC residents – prefer the Chanel store on Madison Avenue because the crowds are much smaller.
At Chanel on Madison Avenue, you'll find much of what you would at the Chanel flagship: the most popular bags, fabulous costume jewelry, and ultra-refined accessories. Chanel on Madison Avenue is one of the Luxury Boutiques in NYC that you should visit if you want to indulge in some serious retail therapy in a cozy, and welcoming setting.
The assistance at Chanel is top notch, which makes for a thoroughly-enjoyable experience Shopping in New York City. In addition to receiving all of the help you need to choose something fantastic, you can shop at Chanel and luxuriate in a sophisticated environment – one that is filled wall-to-wall with goodies for those that don't see money as a challenge.
Peruse sunglasses, purses, accessories, shoes, and so much more. Shopping at Chanel in NYC is a bit like coming downstairs on Christmas morning to an offering of goodies so extraordinary that you can't help be elated for the entire day.
Add a visit to Chanel to your itinerary while Shopping in New York.
NYC
Visitor's Guide
Learn about all there is to do, see and experience in the world's greatest city!