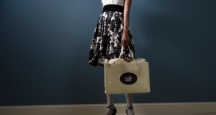 Carolina Herrera | Fashion in NYC
Wondering What to do in NYC? Shop for Fashion in NYC at upscale boutiques like Carolina Herrera.
Address:
594 Madison Avenue New York, NY 10021
Category: Fashion
Price Point: $$$$
Neighborhood: Upper East Side
Hours:
Monday-Saturday: 10am-6pm
Sunday: Closed
About Shopping at Carolina Herrera:
For those looking for refinement and elegance, Carolina Herrera on Madison Avenue is a go-to place for Fashion in NYC. This high-end retailer on the Upper East Side attracts NYC's elite who are searching for fabulous women's suits, cocktail dresses, and evening gowns.
In addition to spectacular casual wear and dressy ready-to-wear items, Carolina Herrera features an in-house bridal salon on the boutique's 3rd floor. This bridal salon is a popular place for wedding Fashion in NYC, offering many ultra-luxe garments like gowns with sweetheart bodices and dresses with gorgeous lace details (starting at $4,000 with alternations from $500).
Whether you're looking for a stunning, strapless wedding gown or a subtle, classy dress to wear for a business dinner, you'll surely find something you adore at Carolina Herrera. Wondering "What to do in NYC?" for an afternoon? Stop into Carolina Herrera and spend an hour or so perusing what the boutique has on it's shelves.
Are you looking for an NYC Hotel to stay at that's close to the top places for buying high-end Fashion in NYC? Choose a New York City Hotel near Central Park - or a Hotel in NYC's Broadway Theater District - and you'll be near all of the best NYC boutiques.
In addition to being moments from these great NYC Shops, NYC Hotels near Central Park and in the Broadway Theater District have many answers to "What to do in NYC?" close by - like dining at top NYC Restaurants, visiting NYC Museums, and hitting the hottest Broadway Theater productions.
NYC
Visitor's Guide
Learn about all there is to do, see and experience in the world's greatest city!