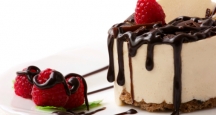 Cannelle Patisserie | Shopping in NY
Shopping in NY and exploring City's best sweets are 2 popular NYC Things to Do. Enjoy them both at once with a visit to Cannelle Patisserie.
Address:
75-59 31st Avenue, Queens, NY 11370
Category: Cakes and pastries
Price Point: $$
Neighborhood: Jackson Heights
Hours:
Monday through Friday – 6:30 a.m. to 8 p.m.
Saturday 7 a.m. to 8 p.m.
Sunday – 7 a.m. to 6 p.m.
About Shopping at Cannelle Patisserie:
Many New Yorkers and NYC visitors looking for a sweet treat head to Cannelle Patisserie in Queens. This popular bakeshop is one of the top destinations for finding an afternoon goodie – and it's a top place for Shopping in NY for those searching for cakes and pastries to take to a social occasion.
Cannelle Patisserie sits just a few minutes from any NYC Accommodation in Midtown Manhattan. The pastry boutique's Queens location – in Jackson Heights – is a short cab or subway ride away from a Central Park Hotel or even a Times Square Hotel.
Cannelle Patisserie sells high-end desserts made by NYC Pastry Chefs Jean Claude Perennou (former the Executive Pasty Chef of the Waldorf Astoria) and Gnanasampanthan Sabaratratnam (Samba – Former Pastry-Sous Chef of the Waldorf Astoria). This New York pastry boutique invites NYC locals and tourists to  "Savor your appetite and treat yourself to a royal delicacy prepared by the finest pastry chefs in America."
Cannelle Patisserie has catered to presidents, dignitaries, and celebrities. The retailer draws many loyal customers due to the big-name chefs who preside over the culinary art offered there - and it continues to find success despite the many places for gourmet food Shopping in NY.
The next time you're looking for NYC Things to Do, consider stopping by Cannelle Patisserie to enjoy some of the City's most delectable sweet treats. 
NYC
Visitor's Guide
Learn about all there is to do, see and experience in the world's greatest city!