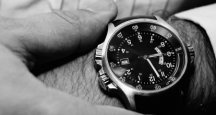 Breguet Boutique | New York City Shopping
Looking for a place for jewelry Shopping in NY? Consider Breguet Boutique and see why New York City Shopping is some of the best in the country.
Address:
711 5th Avenue New York, NY 10022
Category: Timepieces/Jewelry
Price Point: $$$$
Neighborhood: Midtown
Hours:
Monday through Friday – 10 a.m. to 7 p.m.
Saturday – 10 a.m. to 6 p.m.
Sunday – 11 a.m. to 5 p.m.
About Shopping at Breguet Boutique:
Breguet Boutique is a New York City Shopping boutique that is unlike any other. Step inside of this high-end watch shop on 5th Avenue and you may just feel like you've been sent back in time. Most NYC visitors immediately notice Breguet Boutique's charming Louis XVI décor – which is a throwback to the days when legendary Paris watchmaker A.L. Breguet invented the tourbillion (the little pendulum that keeps time in mechanical watches).
The offerings at Breguet Boutique are even more exquisite that the surroundings they sit in. The Swiss wristwatches sold at Breguet Boutique sell for an average of $30,000 per piece, which is just a drop in the bucket for the investment bankers who shop there – and for the next-gen buyers who come into Breguet Boutique looking for a Breguet piece to help them carry on tradition.
Are you looking for a New York City Shopping destination that offers watches of the highest quality? Shop at Breguet Boutique (or the House of Breguet as it is often called) and peruse an ultra-luxurious collection of timepieces that include the popular men's Alarm of the Tsar (a dual-time-zone watch that has a self-winding pendulum) and La Tradicion (which has a retrograde second hand and inlaid rubies between front and back cogs).
Ladies looking for watches can also indulge in dazzling delights at Breguet Boutique. Some favorites among women include the egg-shaped timepieces with diamonds (found in the Queen of Naples collection).
For centuries, trendsetters like Marie Antoinette, Napoleon Bonaparte, and Diane Von Furstenberg have worn Breguet creations. Consider doing a bit of Shopping in NY at Breguet yourself so that you can display your own unique style.
NYC
Visitor's Guide
Learn about all there is to do, see and experience in the world's greatest city!