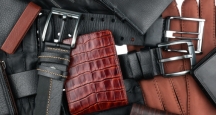 Bottega Veneta | Where to Shop in NY
Wondering Where to Shop in NY for high-end fashion? One of the top luxury Shops in New York is Bottega Veneta, a boutique that sits on 5th Avenue.
Address:
699 5th Avenue New York, NY 10022
Category: Fashion
Price Point: $$$$
Neighborhood: Midtown East
Hours:
Monday through Friday – 10 a.m. to 7 p.m.
Saturday – 10 a.m. to 6:30 p.m.
Sunday – 12 p.m. to 5 p.m.
About Shopping at Bottega Veneta:
Looking for a great place for high-end men's clothes? Visit Bottega Veneta, a top NYC retailer that sits on NYC's famous 5th Avenue. Bottega Veneta is tucked quietly away on a nice little corner in the Upper East Side. This Bottega Veneta store is the company's only men's flagship in the United States, which makes it a highly-popular destination for those wondering "Where to Shop in NY?" for the best menswear.
Bottega Veneta is one of the most fun NY boutiques to shop in. The store is filled with rich textures and many kinds of little luxuries, ones that you won't find elsewhere. While you'll certainly be able to pick up a great deal of leather items at Bottega Veneta (these are the store's biggest sellers), you'll also see some of the chicest ready-to-wear clothing items and unique accessories for men.
Bottega Veneta is a perfect answer to "Where to Shop in NY?" if you're searching for ultra-luxe sunglasses, luggage sets, or – oddly enough – dog collars. This NYC retailer is a gem near any Central Park Hotel, Times Square Hotel, or NYC Hotel in the Broadway Theater District.
For a most enjoyable experience Shopping in New York for men's clothes and accessories, head to Bottega Veneta. Enjoy NYC Shopping in a boutique that has all the class of a refined men's club - and so much more (we can imagine a group of gentlemen lingering and talking business over gin and tonics in Bottega Veneta's back-of-the-store courtyard).
Enjoy Shopping at this lovely shop during your next visit to NYC.  
NYC
Visitor's Guide
Learn about all there is to do, see and experience in the world's greatest city!