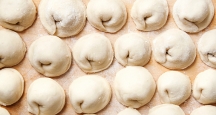 Borgatti's Ravioli & Egg Noodle | NY Shops
Are you visiting New York City? Choose an NY Hotel near top NY Shops like Borgatti's Ravioli & Egg Noodle.
Address:
632 E 187th Street Bronx, NY 10458
Category: Gourmet Marketplace
Price Point: $$
Neighborhood: Belmont
Hours:
Monday – 8:30 a.m. to 4 p.m.
Tuesday through Friday – 8:30 a.m. to 5 p.m.
Saturday – 8:30 a.m. to 6 p.m.
Sunday – 8:30 a.m. to 3 p.m.
About Shopping at Borgatti's Ravioli & Egg Noodle:
Step into Borgatti's Ravioli & Egg Noodle and you'll surely notice the potent aroma right away. Borgatti's is a popular shop with NYC locals and New York City visitors who want to pick up freshly-made pastas to take home for dinner (or to take back with them after a fantastic NYC vacation).
Borgatti's is not the fanciest of NY Shops – it's just a tiny-but-brightly-lit noodle store that draws people in from all NYC boroughs. They come for the store's outstanding offerings in the way of noodles and accompaniments.
Borgatti's Ravioli & Egg Noodle has kept NYC fed with noodles since the 1930's. This top NYC food shop has become an integral part of the Belmont neighborhood of New York City, and fortunately you can experience it yourself within minutes of your NY Hotel.
An NY Hotel in Midtown Manhattan will be an ideal choice for NYC Accommodations near Borgatti's and it will be close to all of the other top Shops in NYC. Whether you're looking for culinary delights, clothing, shoes, home goods, or jewelry – you'll find it all near a centrally-located NY Hotel.
If handmade pastas sound like a good NYC souvenir to take back home, head to Borgatti's and pick up something delicious like fettuccine, linguine, or 1 of 4 other widths of pasta. Each of these noodle choices is churned out fresh that same day – coming from a massive machine that seems to be continually pumping.
Many tourists love to watch the experienced workers behind the Borgatti's counter run the sheets of pasta through the hand cutter. They stand in awe as the pasta strips are tossed with a bit of corn meal and then wrapped in brown butcher paper for a complete presentation.
If you're looking for the top NY Shops selling delectable treats to eat, stop into Borgatti's and purchase a package of pasta. You may want to pick up some of Borgatti's just-dried mushrooms (or carrots) to go with your noodles.
If you need an NY Hotel that is close to Borgatti's Ravioli & Egg Noodle – and near all of the other popular NY Shops – try an NY Hotel in the Broadway Theater District, near Times Square, or near Central Park.
NYC
Visitor's Guide
Learn about all there is to do, see and experience in the world's greatest city!