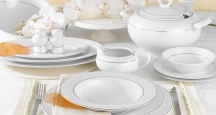 Bernardaud | Top NYC Shops
A popular NYC Things to Do is popping into Top NYC shops, like Bernardaud on Park Avenue – which sells great products for the home and garden.
Address:
499 Park Avenue New York, NY 10022
Category: Home and Garden
Price Point: $$$$
Neighborhood: Midtown East
Hours:
Monday through Wednesday, Friday and Saturday – 10 a.m. to 6 p.m.
Thursday – 10 a.m. to 7 p.m.
Sunday - closed
About Shopping at Bernardaud:
Bernardaud is one of the Top NYC Shops selling exquisite goods for the house and home. This high-end retailer boasts some of the most gorgeous porcelain items that you'll find in New York City – including tableware pieces from a line created especially for the French manufacturer's 150th anniversary. Bernardaud sells Marie Antoinette's china pattern and it offers picture-perfect French porcelain from Limoges.
If you're looking for NYC Things to Do, consider spending the afternoon checking out the Top NYC Shops – like Bernardaud on Park Avenue, or the many New York City Shops on 5th and Madison Avenues. All of these Top NYC Shops sit moments from the New York City Hotels you'll find in the Broadway Theater District, in Times Square, or near Central Park.
At Bernardaud, in particular, enjoy browsing a wonderful collection of tableware designed by popular artists like Jeff Koons, Sophie Calle, and David Lynch. Bernardaud has always worked with the top - and finest - craftsmen and designers, so you'll find many pieces that are highly-coveted and absolutely stunning.
In fact, many of the designs offered at Bernardaud stand on their own merit as works of art – and they are completely worthy of displaying at a top NYC Art Gallery or NY Museum. Bernardaud has presented some fantastic dinnerware by Julian Schnabel, who has stated, "Some people can look down at this plate and a voyage can occur."
Bernardaud is one of the Top NYC Shops to browse in if you're looking for extraordinary items that go beyond being utilitarian. The merchandise you'll find at Bernardaud allows one to become immersed in something just for the sake of its beauty.
NYC
Visitor's Guide
Learn about all there is to do, see and experience in the world's greatest city!