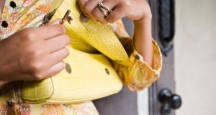 Bergdorf Goodman | NY Shopping
For high-end NY Shopping for fashion, visit Bergdorf Goodman on 5th Avenue. This is one of the City's most well-known destinations for Shopping in NYC.
Address:
754 5th Avenue New York, NY 10019
Category: Fashion
Price Point: $$$$
Neighborhood: Midtown East
Hours:
Monday through Saturday – 10 a.m. to 8 p.m.        
Sunday – 11 a.m. to 6 p.m.
About Shopping at Bergdorf Goodman:
Bergdorf Goodman offers an ultra-luxurious NY Shopping experience for any New Yorker or NYC visitor. This top New York department store sits in the heart of NYC - on the famous 5th Avenue near the New York City Hotels close to Central Park and Times Square.
Bergdorf Goodman is a sophisticated mainstay in New York City. It resides in the elegant Vanderbilt mansion that was built in 1928. Bergdorf Goodman is a popular place for ladies who lunch in New York City– as they head to this high-end retailer to gather, do a bit of NY Shopping, and simply be seen on the Manhattan social scene.
Bergdorf Goodman offers some of the top labels in luxury fashion – which is why NYC socialites spend quite a bit of time at the NY boutique. At Bergdorf Goodman, you can enjoy an afternoon doing some NY Shopping for fabulous items from Chloe, Narciso Rodriguez, and Roberto Cavalli – and then you can head to one of the store's 2 accommodating cafes for an after-shopping snack.
As you enter Bergdorf Goodman for the first time, you'll surely take note right away of the 9 floors of NY Shopping heaven that stand before you. The stately building that Bergdorf Goodman sits in is perfect for showcasing the many ultra-luxe clothing items and accessories – as features ever-so-elegant shopping spaces. Bergdorf Goodman even boasts swanky dressing rooms with views of Central Park.
Whenever you're looking for NYC's top labels, you'll find them at Bergdorf Goodman. This NY Shopping destination houses 2 in-store couture boutiques that offer some of the finest designer clothing you'll find in the world.
On Bergdorf Goodman's 5th floor, you'll be able to pick up clothing and accessories from mid-priced lines like DKNY, Theory, and Marc by Marc Jacobs – which are popular with fashionistas who gravitate toward style without the hefty price tag. Bergdorf Goodman's main floor is where you'll likely see celebrities hiding behind dark glasses and Upper East Side ladies who are en route to the 9th Floor John Barrett salon.
If you're looking for glasses and handbags, you'll find these at Bergdorf Goodman too. Top brands like Chanel and Kisselstein-Cord sit alongside other coveted lines – and there are surprisingly many options for a variety of budgets.
Bergdorf Goodman offers one of the best beauty product and cosmetic collections you'll find near your New York City Hotel. So, if you need that perfect shade of eyeliner or a incredibly-soft shampoo, try Bergdorf Goodman - a top NY Shopping hotspot.
NYC
Visitor's Guide
Learn about all there is to do, see and experience in the world's greatest city!