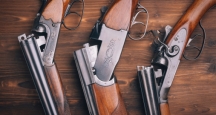 Beretta | New York City Shopping
Beretta is one of the top spots for New York City Shopping for sporting goods and apparel.
Address:
718 Madison Avenue New York, NY 10065
Category: Sporting Goods/Apparel
Price Point: $$$$
Neighborhood: Upper East Side
Hours:
Monday through Saturday – 10 a.m. to 6 p.m.
Sunday - closed
About Shopping at Beretta:
One popular spot for New York City Shopping for sporting goods is Beretta, a family-owned retailer that sells Italian-made guns and a few other items too – such as knives and hunting-related accessories. Berretta is the oldest industrial company in the world. It was founded in 1536 and is a top supplier of sport rifles and shotguns.
Berretta's offerings of primarily hunting guns, clothes, and accessories make for a highly-targeted NYC Shopping experience – so some New Yorkers and NYC visitors may find that this store is not one of the New York City Shops that is right for them.
While Beretta does draw many customers into its Madison Avenue shop, there are countless other New York City retailers on Madison Avenue – and on 5th Avenue – that lure people in with less controversial items. Spend a few hours on these NYC Shopping Avenues and you can explore fantastic offerings in categories like apparel, electronics, food, toys, and more – if that's more to your liking.
Whatever your sporting good needs, you will likely find what you're looking for at Beretta. During your next stay at an NYC Hotel, enjoy some New York City Shopping at national retailers, small shops, and the many other options for Shopping in NYC. 
NYC
Visitor's Guide
Learn about all there is to do, see and experience in the world's greatest city!