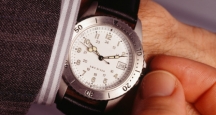 Audemars Piguet | Where to Shop in NYC
Wondering Where to Shop in NYC for timepieces and jewelry? Enjoy Shopping in NYC at Audemars Piguet.
Address:
65 E 57th Street New York, NY 10022
Category: Timepieces/Jewelry
Price Point: $$$$
Neighborhood: Midtown East
Hours:
Monday through Saturday – 10 a.m. to 6 p.m.
Sunday - closed
About Shopping at Audemars Piguet:
Audemars Piguet was founded in 1875 by Jules-Louis Audemars and Edward-August Piguet. When both men were in their early 20's, they started the Switzerland company and immediately began making complex, elegant, and innovative timepieces with some of the most exquisite materials available. Today, Jules-Louis and Edward-August's families run the Midtown Manhattan shop, which continues to be a top answer to "Where to Shop in NYC?" for watches and jewelry.
The exquisite items sold at Audemars Piguet come from beloved metals and gems like rose gold, platinum, and diamonds. Each of the watches and jewelry pieces is inventively designed and a unique work of art – unlike some of the generic items that you'll find at other mega-retailers.
Audemars Piguet produces just 26,000 pieces a year. The boutique offer an outstanding collection of meticulously-crafted men's and women's designs that carry a hefty price tag - but each item is well worth the cost according to many loyal customers.
In addition to a gorgeous inventory, Audemars Piguet boasts one of the most luxurious showrooms in NYC. Step into Audemars Piguet and you may feel like you've just walked into an exclusive bank vault from the days of old. Audemars Piguet's offerings sit in a beautiful, ultra-fancy interior that features double security doors at the entrance. Rows of glass cases contain watches and jewelry pieces wrapped around tiny pillows - or mounted on dainty pedestals.
As you browse Audemars Piguet's collection, you'll likely be watched by security guys wearing earpieces and keeping close guard over the expensive merchandise. Simply ignore them and enjoy a fun experience Shopping in NYC. Spending some time browsing the stunning designs from lines like the Millenary (with Roman-number motifs and pretty oval shapes) and from the Royal Oak Offshore series (which offers watches with casings that are resistant to magnetic fields and water).
Some of the most brilliant timepieces at Audemars Piguet are those that have a cut-away face, which allows you to see the intricate mechanisms at work inside. These are some of our favorites – and NYC shopper's top picks - so make sure you plan at least an hour for Shopping in NYC at Audemars Piguet so that you can see these and many other fine pieces.
Do you need an NYC Hotel for your trip to New York City? If so, choose a New York City Hotel that is close to all of the top Shopping in NYC, such as a Central Park Hotel or a Times Square Hotel. These NYC Accommodations will have many answers to "Where to Shop in NYC?" nearby.
NYC
Visitor's Guide
Learn about all there is to do, see and experience in the world's greatest city!