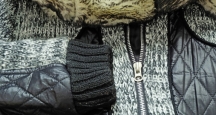 Armor Lux | Where to Shop in NY
Shopping is a top NY Things to Do, and Armor Lux is one example of the trendy shops that make New York one of the top retail destinations in the world
Address:
232 Mulberry Street New York, NY 10012
Category: Fashion
Price Point: $$$
Neighborhood: NoLita
Hours:
Monday – closed
Tuesday through Friday – 12 p.m. to 8 p.m.
Saturday and Sunday – 11 a.m. to 7 p.m.
About Shopping at Armor Lux:
Are you wondering "Where to Shop in NY?" for clothing? One of the top NYC retailers is Armor Lux, a NoLita shop that specializes in maritime-themed clothes. Armor Lux hails from the small French town of Quimper and it stocks pieces that are faves with fishermen - like high-quality Breton-style shirts, wool sweaters, pea coats for men, and a few women's items too.
Since Shopping in NYC is one of the top NY Things to Do, we want to make sure that you know about the most popular options for buying clothing in New York. Armor Lux certainly is a go-to choice for those fishing folk, but it's also a favorite retailer for people looking for conservative fashion that incorporates simple, modern lines.
Armor Lux is all about old-world craftsmanship, yet the brand's clothing still manages to be contemporary – which is important for many New Yorkers who want to remain stylish at all times of the year. Armor Lux clothing can be worn for many occasions, as it's ultra-comfy but still aesthetically pleasing.
Wondering "Where to Shop in NY?" for sweaters, striped shirts, scarves with nautical themes, and even cozy socks and slippers? Armor Lux stocks these items and more. At Armor Lux, you'll find fashion that is casual but not lazy. The clothing sold at Armor Lux is perfect for a day out on the Hudson or an afternoon of Shopping in New York City. It's versatile, reasonably priced, and quite attractive.
When you've got a list of NY Things to Do but don't know what to wear for each one, consider stopping into Armor Lux for something appropriate to dress yourself in.
NYC
Visitor's Guide
Learn about all there is to do, see and experience in the world's greatest city!