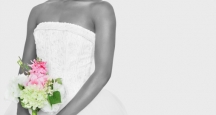 Amsale | New York City Shopping
If you're looking for a great New York City Shopping hotspot for bridal wear, visit Amsale on Madison Avenue. This is a favorite spot of brides-to-be for Shopping in NYC.
Address:
625 Madison Avenue 2nd Floor New York, NY 10022
Category: Bridal
Price Point: $$$$
Neighborhood: Midtown East
Hours:
Monday – closed
Tuesday and Wednesday – 11 a.m. to 7 p.m.
Thursday and Friday – 11 a.m. to 6 p.m.
Saturday – 9:30 a.m. to 6 p.m.
Sunday – 11 a.m. to 5 p.m.
About Shopping at Amsale:
If your trip to Manhattan will include New York City Shopping for bridal gowns and accessories, head to Amsale on Madison Avenue. Amsale is a top destination for brides-to-be and their bridesmaids, as it offers beautiful dresses that are more classic and classy than fluffy and frilly.
Amsale is a godsend for wedding party members who prefer the cocktail party to traditional puffy numbers. For the bride, Amsale stocks gorgeous satin Empire dresses, georgette V-necked gowns, and taffeta-knotted cuff dresses that always command attention from the groom - and from wedding guests.
Amsale is the place to go for New York City Shopping if you're looking for gowns with clean lines and sophistication. The high-style dresses that you'll find at Amsale can be purchased made-to-order starting at $3,400. The most luxurious of couture bridal gowns can reach prices of $20,000 and up. If you're looking for a less-expensive dress option that is still ultra-elegant, choose something from Amsale's Little White Dress Line – which starts at $900.
When you find your perfect gown at Amsale, you can have it altered for a flat fee of $575 (regular-priced dresses only). Amsale's sample stock dresses or overstock gowns do not qualify for on-site alterations because they are already deeply discounted.
If you're visiting NYC and are planning to do a bit of New York City Shopping for your upcoming nuptials, stay at a centrally-located New York City Hotel – like a Central Park Hotel – and you'll be moments from all of the top NYC Shops selling bridal gowns, footwear, accessories, and more.
NYC
Visitor's Guide
Learn about all there is to do, see and experience in the world's greatest city!