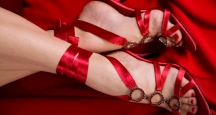 Alden | NYC Shopping
NYC Shopping is one of the top Things to do in NY for travelers staying in New York City, especially when there are so many great boutiques around like Alden – a popular shop selling the season hottest shoes.
Address:
344 Madison Avenue New York, NY 10017
Category: Shoes
Price Point: $$$$
Neighborhood: Midtown East
Hours:
Monday through Friday – 8 a.m. to 6 p.m.
Saturday – 9 a.m. to 5 p.m.
Sunday – 10:30 a.m. to 4 p.m.
About Shopping at Alden:
There are so many great places for NYC Shopping. While some stores are simply known for stocking great high-end fashion items, others have fun stories behind them. Alden on Madison Avenue is one of those shops. Alden is a top shoe store in New York that sells upscale footwear, including the popular "Indy" boot that many NYC locals and visitors adore. While you'll find many people sporting this shoe, not all of them know how it came about.
Back when Stephen Spielberg was just starting to find success with his Indiana Jones franchise, Harrison Ford purchased a pair of Alden boots at a California department store. During the filming of Raiders of the Lost Ark, Ford insisted on wearing the same pair of boots and the "Indy" was officially born.
The "Indy" is a popular hiking boot that is rugged and classic. It has a style that is distinct and unlike anything else in Alden's collection – which is comprised primarily of dressy loafers adorned with tassels and clasps.
Although Alden does tend to stick to one type of footwear for the bulk of its line, it offers a few other options, such as Foot Balance shoes – which are signature products featuring rubber soles with extra support (great for those with orthopedic needs).
To go with its shoes, Alden offers a wide variety of argyle and black socks (you'll notice these flanking the register at Alden). Whether you are looking for casual footwear or shoes to wear for a nice night out on the town, you're sure to find something at Alden - one of the top NYC Shopping destinations for men's shoes near your New York City Hotel.
If you're visiting New York and are looking for Things to do in NY, stay at a centrally-located NYC Hotel near 5th and Madison Avenues and do a bit of NYC Shopping at stores like Alden - and at other men's and women's fashion boutiques. There are so many great shops to explore on a trip to NYC, so make sure you stay near them all by choosing a New York City Hotel near Central Park - or even a Times Square Hotel.
NYC
Visitor's Guide
Learn about all there is to do, see and experience in the world's greatest city!