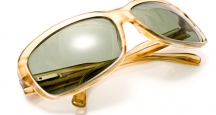 Alain Mikli | Shopping in New York
There are so many great destinations for Shopping in New York, but if you're specifically looking for luxury eyewear, head to Alain Mikli on Madison Avenue.
Address:
1025 Madison Avenue New York, NY 10075
Category: Eyewear
Price Point: $$$$
Neighborhood: Upper East Side
Hours:
Monday through Wednesday, Friday and Saturday – 10 a.m. to 6:30 p.m.
Thursday – 11 a.m. to 7 p.m.
Sunday – 12 p.m. to 5 p.m.
About Shopping at Alain Mikli:
If you're looking for places for Shopping in New York for eyeglasses, visit Alain Mikli on Madison Avenue. This edgy, Parisian-based eyeglass company strives to be the Barney's of the frame industry. Each Mikli boutique is designed by Philippe Starck and is outfitted according to strict Feng Shui standards – which helps to create an environment for Shopping in New York that is welcoming and absolutely flawless.
Alain Mikli sells chic, high-concept, and uber-comfortable sunglasses and eyeglasses in an ultra-elegant setting. This NYC boutique's interior space features mahogany display cases filled with all of the top eyewear lines, and it boasts stunning design elements that set a tone of luxury – like beautiful crystal chandeliers. While Alain Mikli is ever so posh, it still manages to take itself lightly by displaying portraits of bespectacled, smiling folk on the walls throughout the store.
If you're looking for a place for Shopping in New York that features a full range of distinct, original eyeglass designs – stop into Alain Mikli. In addition to Mikli's own glasses (like those in the gorgeous, signature red-framed Rouge Passion collection), you'll find eyeglasses from design partner Starck's line and whimsical glasses from the fun Pact line.
Alain Mikli is yet another example of spots for NYC Shopping that make the Shopping in New York so amazing. Instead of nothing but cookie-cutter retail stores, New York is home smaller retail offerings such as Alain Mikli. 
NYC
Visitor's Guide
Learn about all there is to do, see and experience in the world's greatest city!