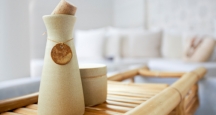 Aedes de Venustas | New York Shopping
Enjoy New York Shopping, a popular NY Activity, at Aedes de Venustas - one of the top places for Shopping in the City's West Village.
Address:
9 Christopher Street New York, NY 10014
Category: Beauty
Price Point: $$$
Neighborhood: West Village
Hours:
Monday through Saturday – 12 p.m. to 8 p.m. 
Sunday – 1 p.m. to 7 p.m.
About Shopping at Aedes de Venustas:
Are you looking for a place to do a bit of New York Shopping for beauty products? Aedes de Venustas is a top beauty boutique in the West Village that sells delightful products for the body – and for the home. This lovely retail shop sits at the quiet end of a curvy little street – a perfect haven for those want to indulge their senses and get away for a bit.
Celebs like Liv Tyler, Sarah Jessica Parker, and Hugh Jackman shop at Aedes de Venustas, and many New York locals make this destination for New York Shopping their go-to shop when they want to buy perfumes, candles, and skin care products.
Aedes de Venustas is run by a very knowledgeable German couple that is always happy to help newcomers navigate the store's extensive collection of goods. This popular New York Shopping boutique specializes in hard-to-find, high-end home scents, bath products, and other luscious goodies that come from all over the world.
Shopping is one of the most popular NY Activities with both locals and visitors to the City. When you visit stores like Aedes de Venustas, it is easy to see why. Along with larger retailers, smaller shops like this make it possible to find items that you may not see anywhere else. Spend an afternoon enjoying some New York Shopping during your next visit to the City. 
NYC
Visitor's Guide
Learn about all there is to do, see and experience in the world's greatest city!