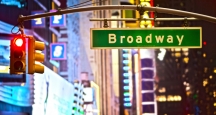 Seeing a Broadway Show: An Exciting NYC Thing to Do for All Ages
Enjoy the lights, the music, and the magic of a Broadway Show during your next visit to the City. This Activity in New York City is fun for all ages, and it is an experience you'll treasure.
Seeing a Broadway Show is something that everyone should do at least once – but once won't be enough! When the lights come up on the stage, the magic begins. Whether you choose a comedy, a touching dramatic performance, or a whimsical, kid-friendly spectacle, this Activity in New York City will be a highlight of your visit.
Choosing a Show
There are 40 theatres with at least 500 seats on Broadway, and there are many additional, smaller theatres. When it comes to choosing a show, the biggest problem you'll likely face is choosing just one. With more than 100 Broadway and off-Broadway shows from which to choose, there is something to suit every taste and visitors of every age.
Visit our Broadway Show Guide for descriptions of many of the most popular shows. You'll find information about whether or not a show is appropriate for children, theatre information, and a synopsis of each show.
Getting Tickets
When it comes to the best way to purchase your tickets to Broadway Shows, it depends on whether you are set on seeing a particular show, or if you'd rather try to save some money with discounted tickets and be a bit more flexible about which show you see.
If you want to see a certain show then it is best to purchase your tickets in advance. Popular shows may sell out on certain dates, and if you wait until you arrive in NYC to buy tickets, you could end up disappointed. If, however, you are open to different shows, you can save up to half on tickets to Broadway Shows by visiting the TKTS booths.
The TKTS Booths are located in Times Square, at the South Street Seaport, and in Downtown Brooklyn. They sell discounted tickets for same-day shows. What shows they will have tickets for changes each day, but this is a fun way to enjoy a night out without paying full price.
A Pre or Post-Show Bite to Eat
Many fabulous NYC Restaurants are located near the Broadway theatres, and many stay open late to accommodate the post-show crowd. Some of the popular spots for enjoying a meal before or after a show are Don Antonio, Danji, Larb Ubol, The Lamb's Club, and Island Burgers & Shakes.
Whether you just want to grab a quick bite, or you want to sit down to a fine NY Dining experience, you'll find just what you're looking for near the Broadway theatres.
Seeing a Broadway Show is a fun NYC Thing to Do. Add this Activity in New York City to your itinerary during your next visit. 
NYC
Visitor's Guide
Learn about all there is to do, see and experience in the world's greatest city!