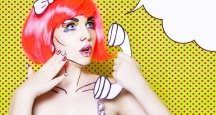 Top October Events in NYC
Looking for Things to do in NY? Consider these popular October Event in NYC.
Planning a visit to New York City in October? If you're looking for Things to do in NY then consider attending some of the fall's most popular NYC Events. October Events in NYC include one of the country's top comic cons, a massive parade, a salty Halloween celebration, and a 4-day food and wine celebration.
New York Comic Con
October 6 through October 9, 2016
Jacob K. Javits Convention Center | 655 West 34th Street New York, NY 10001
Tel: 212.216.2000
If you visit the city at the beginning of October, don't worry if you see incarnations of Superman and other caped crusaders. They are just there for New York Comic Con, one of the most popular Events of its kind. Attendees will meet celebrities, enter costume contests, buy hard-to-find collectibles, attend panel discussions, and much more. More than 170,000 people attended last year's October Event in NYC, and similar numbers are expected this year.
Columbus Day Parade
October 10, 2016
Fifth Avenue from 47th Street to 72nd Street
The Columbus Day Parade is one of the city's most popular October Events. While maybe not as well-known as that other parade (we're talking to you Macy's!), this October Event in NYC includes 35,000 participants. Marching bands, floats, and local rescue units are among the participants. More than 1 million people will line the street to watch this festive NYC Event.
Village Halloween Parade
October 31, 2016
6th Avenue from Spring Street to 16th Street
Since 1973, this October Event in NYC has invited anyone in costume to join in the parade along with 50 bands and other participants. All costumes are welcome, so you can just throw something together to join in the fun. Some people, however, take this parade very seriously and they turn out some of the most impressive and elaborate costumes that you'll ever see. If you're looking for Things to do in NY on Halloween, then consider attending this exciting NYC Event.
New York City Food and Wine Festival
October 13 through October 16, 2016
Various locations
If you're looking for NYC Events that highlight the city's fabulous food then the New York City Food and Wine Festival is the perfect choice. Dozens of Activities and Events take place during the 4-day October Event in NYC. Enjoy dinners, cooking demonstrations, wine tastings, and more. Celebrity chefs will be on hand, so buy your tickets early to be sure you'll be able to attend your favorite Events. 
NYC
Visitor's Guide
Learn about all there is to do, see and experience in the world's greatest city!