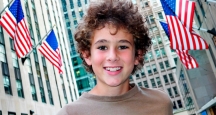 9 Free Activities in New York City for Kids
If you're looking for NYC Things to Do with kids then these free NY Activities might be just the thing.
A family visit to New York City doesn't have to break the bank. There are plenty kid-friendly Activities in New York City that don't cost a dime. When you're looking for free NYC Things to Do then consider these free NY Activities.
1. Visit the Bronx Zoo (Wednesdays)
​The Bronx Zoo is one of the largest urban zoos in the world. It is home to thousands of animals, and visiting is a top NYC Thing to Do for both adults and children. Tickets are about $15 for kids and $25 for adults, but if you visit on Wednesday admission is free. You can enjoy seeing all of the Zoo's animals and exhibits at no charge. Donations are accepted and all money helps to support the operating costs of this popular Attraction in NY.
2. Museum of Modern Art - A Closer Look for Kids
If you want to get your child interested in art then this NY Activity is a perfect choice. On Saturdays and Sundays, the Museum of Modern Art hosts a free event called A Closer Look for Kids. Children from ages 5 to 10 are welcome to come and learn about modern artwork by taking an up-close look at some of the works and then participating in a discussion with museum staff. Tickets are given out on a first-come, first-served basis starting at 10 a.m. on the morning of the class.
3. Take a Tour of Central Park
Free Tours by Foot offers free walking tours of Central Park. Several different tours are available, and you can read about each and decide with of these Activities in New York City might interest your children. The tours are free, but donations in any amount are accepted at the end of the tour for those who would like to give.
4. Visit the New York Hall of Science (Fridays and Sundays)
This fun Attraction in New York boasts more than 450 exhibits that encourage visitors to explore, learn, and play. You'll find lots of hands-on exhibits, and that is one of the reasons that this is such a popular Activity in New York City for kids. Tickets are normally $15 for adults and $12 for kids, but free admission is offered on Fridays from 2 p.m. to 5 p.m. and Sundays from 10 a.m. to 11 a.m. (Note: During World Maker Faire, an NYC Event, free admission is not offered.)
5. Build a Masterpiece at the LEGO Flagship store (1st Tuesday of the month)
Kids love LEGOS! That's why this free NY Activity is a hit with children of all ages. The LEGO Flagship store is a fun place to visit any day of the week. Kids (and adults) love to see the many LEGO sets on display and let their imaginations run wild. On the 1st Tuesday of each month, kids can build a mini LEGO creation and then take it home. You can sign up online to reserve your spot and to see what creation was selected for the mini build of the month.
6. Visit the National Museum of the American Indian
Visiting top Museums is a popular NYC Thing to Do, and visitors all ages will enjoy a visit to this free Museum. The National Museum of the American Indian features artifacts and exhibits that tell the story of Native Americans. In addition to the permanent exhibits, temporary exhibits and other special events such as films, dance performances, and lectures are also available.
7. Spend a Day at the Beach
Visiting during the summer? Then spending a day at the beach is a perfect Activity in New York City! Several beaches are located near the City including Jones Beach, one of the state's biggest, Fort Tilden Beach, Long Beach, Coney Island Beach, and many others. Enjoy swimming, sunning, and relaxing while the kids play in the sand. This warm-weather NY Activity is a great choice for kids of all ages.
8. Explore Belvedere Castle 
Located in Central Park, Belvedere Castle is a miniature castle (a building known as a folly), and it's a favorite spot for kids to explore. The castle, which was built in 1869, is open from 10 a.m. to 5 p.m. daily, and visitors love to explore the exhibit rooms and look out from the observation deck.
9. Stroll Through Alley Pond Environmental Center
Many parents are looking for ways to teach their kids about the environment and this NY Activity can help with that. Visitors will learn about the importance of protecting these wetlands as well as why it's important to protect more and more of the spaces inhabited by various wildlife. As you enjoy this NYC Thing to Do, you'll have the chance to see some of creatures who live near Alley Pond.
Looking for more Activities in New York City? View our NYC Activities Guide to read about some of the most popular NYC Things to Do. 
NYC
Visitor's Guide
Learn about all there is to do, see and experience in the world's greatest city!