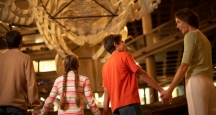 Top 7 NYC Museums For Kids
When you're looking for kid-friendly Things to do in NY, consider these fun and educational NYC Attractions
When looking for Things to do in NY, consider visiting some of the many world-class Museums located in the City. If you're visiting with your family then you will find many NYC Attractions that your kids will love. As you plan your family visit to New York City, take a look at our list of the Top 7 NYC Museums for Kids.
American Museum of Natural History
Central Park West at 79th Street New York, NY 10024
Tel: 212.769.5100
Visitors of all ages may recognize this NYC Attraction as it has been prominently featured in movies, most notably Night at the Museum. Save this Thing to do in NY for a day when you have plenty of time, because it's easy to spend an entire day browsing the exhibit halls and still not even scratch the surface of what this huge Museum has to offer.
TIP: Because the Museum is so large, it's a good idea to visit the website prior to your visit so you can decide which of the exhibits interest you most.
Lower East Side Tenement Museum
103 Orchard Street New York, NY 10002
Tel: 212.982.8420
Learn what life was like in a New York City tenement. Depending on which tour you choose, you will learn about the daily life or work of an immigrant family. Tour the building and meet residents of years past. A number of different tours are available.
TIP: Visit resident Victoria Confino. She plays a 14-year-old girl who lived in the tenement in 1916, and her character may be easy to relate to for young visitors.
Intrepid Sea, Air & Space Museum
Pier 86 West 46th Street and 12th Avenue New York, NY 10036
Tel: 212.245.0072
An aircraft carrier, submarine, jet plane, and a space shuttle? What's not to love?! It's easy to see why this is one of the top NYC Museum for Kids, but mom and dad will enjoy a visit to this NYC Attraction just as much as the children. Visitors can roam the ship, explore the living quarters, the hangar deck, and more. The other exhibits, such as the Space Shuttle Pavilion, offer educational experiences that will be a memorable part of your visit to New York City.
TIP: Consider the weather before visiting this NYC Attraction. While you can visit in the rain or cold, you'll probably enjoy your time at the Intrepid Sea, Air & Space Museum more during milder weather.
Queens County Farm Museum
73-50 Little Neck Parkway Floral Park, NY 11004
Tel: 718.347.3276
Visit historic farm buildings, see livestock, and much more when you stop by this NYC Attraction. It is the City's largest remaining tract of farmland, and it's a great place to spend a day with the kids.
TIP: Stop by the Welcome Center to pick up some feed. The kids will love the chance to feed the goats!
Madame Tussauds New York
234 West 42nd Street New York, NY 10036
Tel: 866.841.3505
You might run into a celebrity or two during your stay in New York City, but when you visit this NYC Attraction, you are sure to see dozens of your favorite singers, actors, sports figures, and politicians. The incredibly lifelike figures are what make a visit to Madame Tussauds a top Thing to do in NY.
TIP: Bring your camera! The whole family will love having their pictures taken with their favorite "celebrities!"
FDNY Fire Zone
34 West 51st Street New York, NY 10019
Tel: 212.698.4520
This hands-on NYC Attraction gives kids the chance to climb on a real firetruck, try on firefighter gear, and even meet a firefighter. Visitors will also learn about how to bring fire safety to their own homes through a number of exhibits and experiences.   
TIP: This Top NYC Museum for Kids is fun, but it's also a learning experience. Be sure to drive home all of the tips about fire safety that are presented during your visit.
New York Hall of Science
47-01 111th Street Corona, NY 11368
Tel: 718.699.0005
The 450 exhibits at this popular NYC Attraction inspire both fun and learning. Science, math, technology, and engineering are all addressed at the New York Hall of Science. For any kids even remotely interested in science, this is a can't-miss Thing to do in NY.
TIP: Check the Museum's website for information about special events and upcoming temporary exhibits. 
NYC
Visitor's Guide
Learn about all there is to do, see and experience in the world's greatest city!