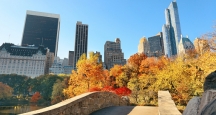 Things to do in NYC: 6 Tips for a Fall Visit to NYC
Planning a fall stay at an NYC Hotel? Here are some tips about fall Things to do in NYC and popular NYC Activities.
Each season in New York City has its own charms, but many find that fall is their favorite time of year to plan a stay at an NYC Hotel. Imagine the crunch of the leaves beneath your feet as you stroll through Central Park as the air – just starting to turn crisp – reminds you that winter is just around the corner. Here are 6 tips to keep in mind if you're planning a fall visit to New York City.
Thank George Balanchine
If you love the unique style and energy of the New York City Ballet then you'll want to whisper a word of thanks to the late George Balanchine – the man who founded the company. The fall season for New York City Ballet starts on September 20th and runs through October 16th. Performances will include Jewels, Glass Pieces, Serenade, Firebird, and brand new pieces choreographed by New York City Ballet dancers.
Say Farewell to the Yankees
Baseball fans may look a little blue come fall, and that's because it's about time for baseball season to wrap up. If you're visiting in early fall then you may still be able to add seeing a game at Yankee Stadium to your list of Things to do in NYC. Be sure to reserve your tickets in advance as end-of-the-season games tend to sell out in advance.
Become a Foodie
Most people know that the dining scene in NYC is incredible. What some may not know is that new Restaurants open all the time. If you're planning a stay at an NYC Hotel in the fall of 2016 then consider dining at one of the hot new restaurants that will be celebrating their grand openings. Some of the most anticipated are Mingy Rose, Chumley's, Nur, Gotham Market at the Ashland, Maison Pickle, and Rouge Tomate.
Sip a Fall Cocktail
Visiting some of the many wonderful bars and lounges is always a favorite NYC Activity. During the fall, many spots feature special seasonal drinks that are perfect for this time of year. Warm up after a walk through the city at one of these popular New York City Bars. Some of the bars that offer special seasonal drinks are The Up & Up, Nitecap, Bar Goto, Mace, Mission Chinese, and many others.
Admire the Trees
It sounds so quaint that it might make some people roll their eyes, but the truth is that if you visit the city during the fall, you must take at least a few minutes to admire the changing leaves. This Thing to do in NYC is best a bit later in the fall when the leaves are in their full glory. Many scenic drives are easily reached, but you don't have to leave to city to see the fall leaves. Walking through Central Park and taking part in the New York Water Taxi Fall Foliage Cruise are 2 ways to enjoy the fall foliage in New York City.
What to Pack
While the warm summer weather is gone, the early part of fall is still quite mild. If you visit in September, expect average highs of 75 degrees and lows of 61. The temps drop further in October with average highs of 64 degrees and lows of 50 degrees. While many find the daytime weather very pleasant, you'll want to pack at least a light jacket for the evenings when it does cool down quite a bit. About 8 days a month bring rain during the fall, so packing a raincoat and umbrella is also a good idea. 
NYC
Visitor's Guide
Learn about all there is to do, see and experience in the world's greatest city!